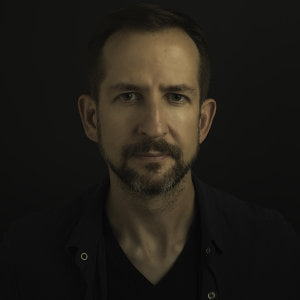 John Mason
Biography
An independent photographer based out of Atlanta and managing director at The Photographers Studio. I focus mostly on portraiture and street photography. Growing up, drafting was a hobby and that background influences my work in a variety of ways, and my love of classic black and white portraiture influences my work with people, preferring simple lighting and technique.
The Cosplayer series are actually street portraits and not formal in-studio shots, as they may appear. Taken mostly outside or in hotel lobbies at various Comic Cons, these are usually very quick, and completed within a minute. If I happen to have taken your portrait, please send me an email, so I can get a JPEG to you. At some point, I hope to collect these shots together for a book.
My Georgia Parks series is also an ongoing project. I'm hoping it brings more attention to our local state park system. For a variety of reasons, they are in need of more resources and many, even at the highest levels of our state government, haven't realize the wonderful treasures we have within the state.
The Light and Shadow section is a bit of a mix. I never liked the term 'street photography' and think the older french term 'Images a la Sauvette' is better. These are mostly digital and lately I've been incorporating more color into the work.
With that said, I prefer working with high resolution digital and film cameras whenever possible for the sharpness and tones they provide. My favorite is 4x5 large format film.
I am available for commercial work and am always excited to tackle new and challenging projects.
Thank you for browsing my portfolio. If you wish to contact me, my email is
studio {at} masonvisuals.com
Professional Associations
Full Member of The Photographers Studio - TPS Professional Photographers of America - PPA National Association of Photoshop Professionals - NAPP Member of the Atlanta Photography Group - APG

Upcoming and Current Shows
Atlanta Photography Group Gallery - Lucinda Bunnen Selects
Sept 26, 2014 - Nov 1, 2014
Contact